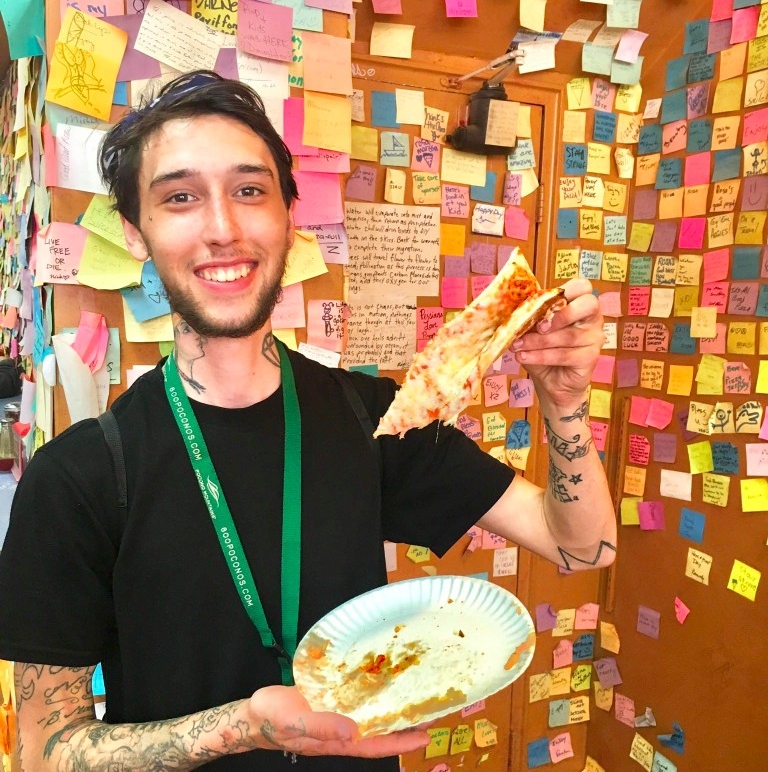 At just 22 years old, Will Chapin is one of our younger homeless visitors.
Will's had a hard life. Though he was born in Northeast Philadelphia, Will moved around with his mom a lot after he turned 5. Now he's been living in South Philly for the past 2 years. "There's no real place I'm actually from," he admits. "[I] just bounced around my whole life."
Still, he looks back on his youth with nostalgia. "I got a really awesome childhood…just me and my mom." Will's mom was a bit of a free spirit and endowed her son with the same bohemian nature, but it's been a while since Will last saw her.
She married a man in Ohio "and he and I don't get along physically," says Will. "Even if I could stay there it wouldn't work out…I don't have anyone but my mom and she's an old lady. She's just not able to take care of me anymore."
Currently, he's been homeless for 3 months. "Usually, if anything happened, I would be able to couch hop and all that," he says. "But things aren't like they used to be in my situation."
Many days, his trip to Rosa's is the only kindness he receives. For him, Rosa's "brings hope. I'm not a morning person. If I don't see the sunrise – I hate mornings. So, you know, I get in here, I'm groggy, I'm starving and I leave and I'm in a great mood, ready to take on the day, whatever things happen. [It] definitely gives me a full stomach, I love your pizza. It's awesome."
We're always glad to provide him with reliable meals, but from speaking with Will, it's clear that life has gotten harder for him recently and he faces some daunting challenges, struggling with addiction. "Some days it's just hard to get out of bed." But Will wants to do the right thing and succeed honestly. "I don't want to steal, I don't want to lie, I don't want to con."
In fact, Will just got the information for a treatment program and he starts work soon, as a part-time season rehire, at a local restaurant.
"I want to talk to my boss – I have a decent relationship with him – and see if I can" get better.
After that, he's focused on his education and plans to get his GED then attend a community college. "I have a plan," he proclaims.
When asked about his greater life's ambition, he can't help but speak of the inspiration his mom has provided him: "My mom's an art therapist. I wanted to follow in her footsteps. I love art and I love music. I love anything that provokes emotion. I think that healing through that is an amazing idea.
"I would love be able to help people that were in the situation that I'm in."
Support young people in poverty like Will by donating online.